More to come!
CRAYOLA INSTAGRAM ACCOUNT TAKEOVER!
DANDELION Crayola Crayon is gone forever
:(
I was asked to comment on this "out of the box" Crayola PR campaign!
Crayola Has Retired Dandelion, Here's What Crayon Artists Suggest For Coping With The Loss
Leigh Anderson
Apr 4, 2017, 1:00pm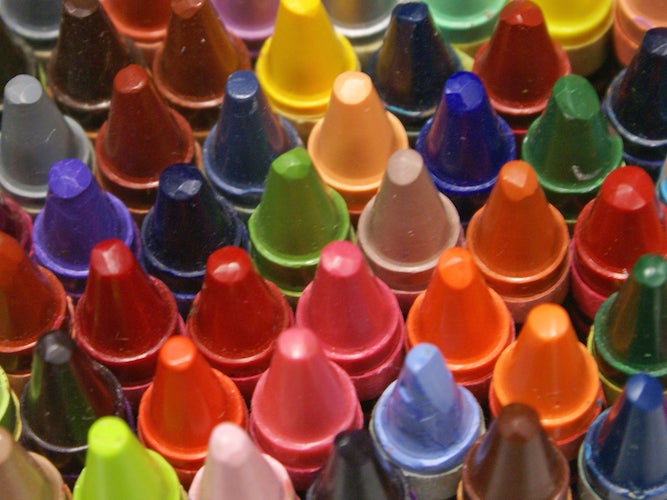 Read more at https://www.lifehacker.com.au/2017/04/crayola-has-retired-dandelion-heres-what-crayon-artists-suggest-for-coping-with-the-loss/#yOImqurqtWFbMPro.99
This is a cool Video of the first inaugural Art Walk at "The Shops At Wailea"
with the beautiful Ki'i Gallery representing my Crayola Crayon Art !
WAILEA MAGAZINE
Inspired by my Wrigley Puppy Portrait, Mateo,
creates his own masterpiece of Wrigley in Crayon!
HONU MAKAI Crayola Original is traveling
all the way to Australia with new Collectors, Kate & Nick!
HAWAII ART SHOW
Hawaii Art Show
New Collectors commissioned a Crayola Crayon Portrait
of their children during my gallery show.
I'm holding the portrait of my daughter that inspired them!
Aloha to Bob Dylan...he's going to Texas
with my new Pop Crayon Art Collector!
Jeffrey on Good Morning America with Charlie Gibson

My friend Ruth Buzzi at home with her Jeffrey Robert
Pop Crayon Art Portrait "Gladys Ormphby" (Laugh-In)



Jeffrey in the Maui Gallery with legendary
Surfer Magazine Founder John Severson




CRAYON COLLECTIBLES!



Jeffrey and a few of his collectors with their
Crayon Collectibles in the Hawaii Galleries

MAGAZINE COVERS
PRESS QUOTES:
ART MURMUR GUIDE South Florida's Art Events
Coloring Outside the Lines: Crayon Art, History and Innovations is the first joint exhibition of father-son crayon artists Don Marco of Minnesota and Jeffrey Robert of Hawaii.

The Art of the Crayon | Palm Beach Illustrated By Stephen Brown
Crayon art like you have never seen before, on display at the Cornell Museum of Art & American Culture.



ALOHA SURF GUIDE MAGAZINE
The Official Surf Guide of Hawaii
Summer 2010 Cover Art "PIPEDREAMS" by Jeffrey Robert with inside Bio
WEST HAWAII TODAY NEWSPAPER FEATURE March 2010
CRAYON ARTIST COMES TO KONA
CRAYOLA APRIL 2008: STILL MEMORABLE AFTER ALL THESE YEARS
COLORFUL MOMENTS IN 64 BOX HISTORY-50TH BIRTHDAY EDITION INCLUDE JEFFREY ROBERT

ART BUSINESS NEWS OCTOBER 2007 feature article Celebrity Art includes ELVIS by JEFFREY ROBERT

DECOR MAGAZINE January 2004 MUSEUMLAND (What Crayola says about Jeffrey Robert in magazine interview)
GIFTBEAT February 2005 Artist To Watch: Jeffrey Robert

THE ARTIST'S MAGAZINE January 2004 Working Outside the Lines: Jeffrey Robert proves that crayons aren't just for kids.

GOOD MORNING AMERICA VIDEO 08/27/03 We've been watching some amazing artwork being created all morning...a marvelous artist, Jeffrey Robert...these are done all entirely in crayon!...I'm so pleased that you did that. Charles Gibson Good Morning America

THE DAILY JOURNAL - CHICAGO 11/02/03 MAKING MASTERPIECES WITH CRAYONS When one thinks of "high art," crayons don't usually come to mind. But Jeffrey Robert, "The Crayon Artist," said that it takes a certain amount of thinking "outside the box" to realize that these childhood icons are a viable art medium.

MINNEAPOLIS STAR TRIBUNE 10/11/03 (VARIETY) ARTIST CREATES AMAZING WORKS IN KIDS' MEDIUM-CRAYON
Coloring outside the lines: Jeffrey Robert's vivid creations are proof that coloring with crayons isn't just kid's stuff.
Remember the excitement and wonder of opening a new box of crayons? Jeffrey Robert does, and his reaction today is the same as when he was a kid: Something magical is possible.